Degree
Procedure for Requesting Degree
Student must submit the request through online TND portal (https://webapps.iba.edu.pk/tnd/) form with fee voucher to the program office at city or main campus.
A. What documents are to be submitted?
The documents required at the time of submission of application are:
Copy of CNIC
Copy of transcript
Degree form filled and dually signed by the petitioner
Fee voucher generated from the website for the degree form
B. Processing Time and Charges:
| Particulars | Normal | Urgent / Duplicate |
| --- | --- | --- |
| Fee for Undergraduate (BBA, BS programs) / Graduate Degree (MBA, MS programs) | Rs.6,000/= | Rs.12,000/= |
| Fee for PhD | Rs.10,000/= | Rs.20,000/= |
| Delivery | 30 working days | 7 working days |
Note: "The process will start from the time of submission of complete documents. If there is a delay or objection in the submission of application such as uncleared dues then an extension of the delivery date is possible."
C. Who may collect the degree?
An original degree can only be collected in person from the city campus by the petitioner.
Alternatively, if the petitioner cannot collect the degree in-person then they must provide authorization on his or her behalf to someone at the time of submission of application.
The authorized person should preferably be a blood relative, such as a parent, sibling or offspring etc.
D. Other collection mechanisms:
Degrees or Duplicate degrees are not sent by courier or any other mechanisms. must be attained in person from the City Campus of IBA.
E. Procedure for requesting duplicate degrees:
For duplicate degree the requirements are given below:
Original cutting from any newspaper announcing the loss of Degree
FIR for lost Degree
CNIC copy
Application requesting a duplicate degree
Paid Fee voucher
An affidavit on a stamp paper of Rs.100/= duly attested by a First-Class Magistrate.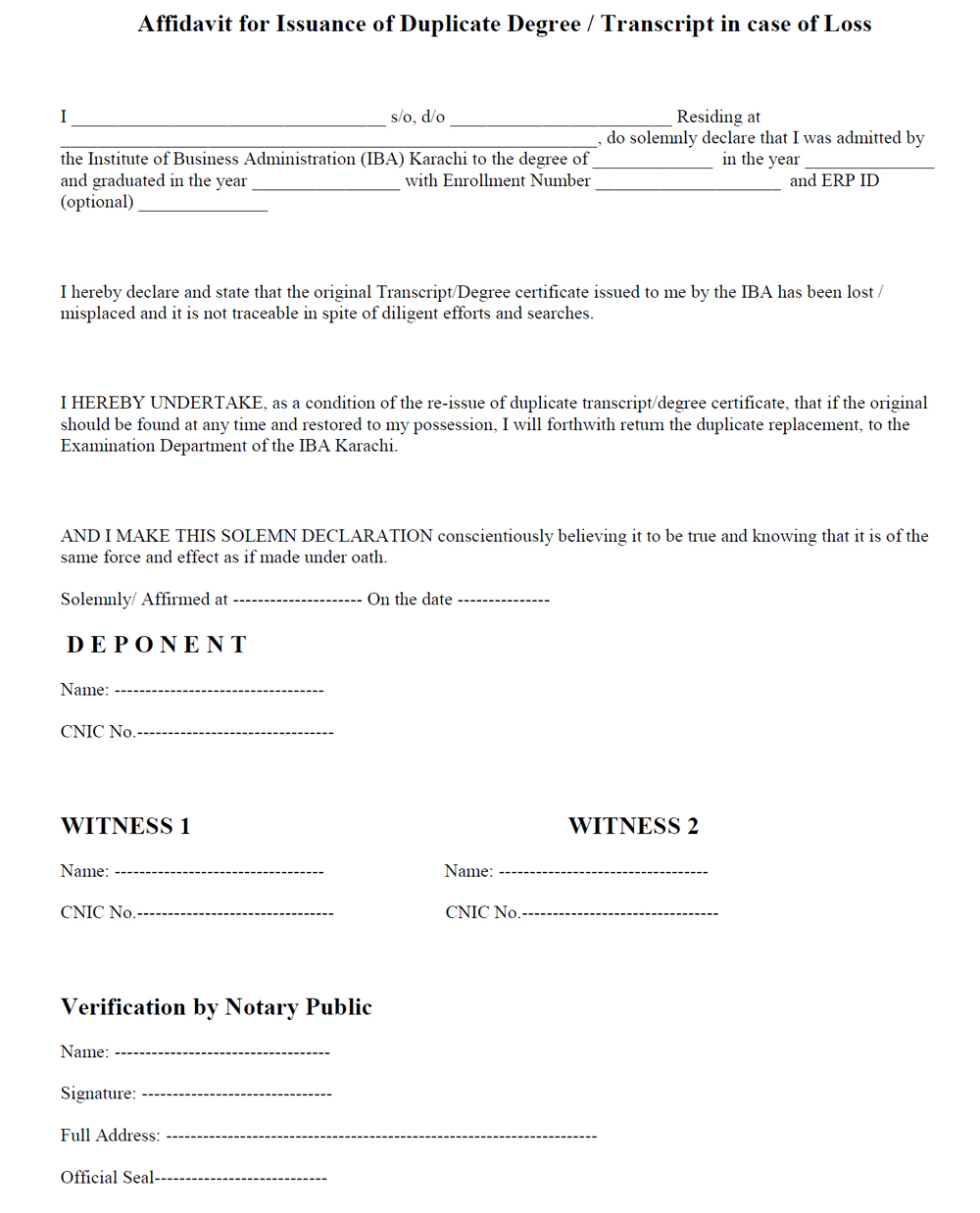 CERTIFICATE
A. What are the types of certificates?
Certificate of Participation
Certificate of marks
B. Who may request a certificate?
Visiting students may request for the two types of certificates mentioned above.
C. Requirements for requesting certificates:
It is necessary that the visiting student must have 75% attendance in all the courses that they have registered for to be qualified for the certificate of participation or the certificate of marks.
If the student fails to meet this criterion then the student will not be entitled to either of the two certificates.
DIPLOMA
A. What are the types of diplomas offered by IBA?
Two types of diploma courses are offered at IBA:
PGD in business administration
PGD in specified courses such as Supply Chain Management, Human Resource Management, Project Management, Healthcare Management and Public Policy are offered by IBA|CEE (Center for Executive Education)
B. Who is eligible for a diploma?
Students of PGD for Business Administration program who have completed 12 required core courses from the course list, will be qualified to apply for the diploma.
Students getting their PGD's in specified courses must have completed the 12 courses allotted to them.